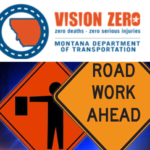 Helena, Mont. –– The Montana Department of Transportation (MDT) has begun road reconstruction work on MT 200 (Ellery Ave) through downtown Fairview, Mont., with initial work beginning on April 3, 2020, according to, Shane Mintz, MDT Glendive District Administrator. Construction is expected to continue through the summer and finish by the end of 2020.  
"We're excited to finally get going on our MT 200 – Fairview project," Mintz said. "The project will rehabilitate and reconstruct the existing roadway surface of MT 200, providing a smoother and safer roadway while eliminating the existing valley gutters with a new storm drainage system."  
The project also includes upgrades to Americans with Disabilities Act (ADA) facilities and new curb and gutter at various locations. At each intersection corner, handicap-accessible curb ramps will be installed to meet ADA criteria.
The new storm drain system will provide better, more efficient water flow and help prevent streets from flooding during seasonal storms.
MDT is committed to working with local stakeholders to minimize construction impacts on residents, businesses, and the traveling public. The highway will remain open to traffic during construction. The traveling public is asked to prepare for delays of up to 15 minutes and is reminded to slow down and watch for work crews and equipment in the construction zone.
Waterline replacement work is anticipated to begin on MT 200 on April 15, and traffic will be reduced to two-lane, two-way traffic.
For the most up-to-date travel information be sure to check: https://www.mdt.mt.gov/travinfo/construction.shtml (look for MT-200 – Mile Marker 62.1 to 63.9).
More information about Montana's highway safety programs can be found at www.mdt.mt.gov/visionzero/plans/.

WORKPLACE SAFETY
When traveling during construction season, watch for the "cone zone" and for workers on the highway. These workers spend their days working a short distance from fast moving vehicles, and while they make every effort to work safely, they are counting on motorists to pay attention, slow down, and be careful passing through a work zone.
COVID-19
The Montana Department of Transportation together with its construction contracting partners are taking the COVID-19 pandemic very seriously. Construction projects on Montana's roads and bridges are considered an "essential" operation and will move forward as scheduled in 2020. While construction workers traveling to a worksite are exempt from the 14-day self-isolation travel rules, several measures have been implemented to help keep employees, contractors and the public safe during the construction season. Some of the measures include following social distancing and good hygiene guidelines, and not reporting to work if showing symptoms of illness. For more information visit https://covid19.mt.gov/ .
ADA
Alternative accessible formats of this document will be provided on request. Persons who need an alternative format should contact the Office of Civil Rights, Department of Transportation, 2701 Prospect Ave, PO Box 201001, Helena, MT 59620. Telephone 406-444-5416 or Montana Relay Service at 711.
FOR IMMEDIATE RELEASE
April 13, 2020
CONTACT
Rainier Butler – Strategies 360 
425-647-9599
More information about Montana's highway safety programs can be found at www.mdt.mt.gov/visionzero/plans/.