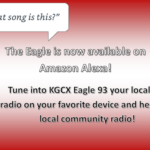 Eagle 93 is now on Alexa!
Amazon Alexa lives in the cloud and is always getting smarter, delivering new capabilities to your device automatically. The more you use Alexa, the more Alexa adapts to your speech patterns, vocabulary, and preferences, with new features continually being added. Ask Alexa to answer questions, hear the news, get weather and traffic reports, control your smart home, and more.
Give it a try first by adding our skill to your device! Don't know how check this guide!
If you are on a PC it is as easy as finding us on Amazon and enabling our skill on your account!
Once you get the skill added to your account you'll be able to say.
Click here to add KGCX
"Alexa, Play KGCX Eagle 93"