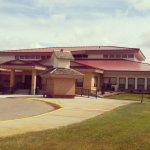 May 4th we visited Rau School to see what their Playground Auction was all about! They still have a little bit to go for their goal and appreciate all the support up to this point.
The mission of Rau Elementary School
is to create a safe, positive, and challenging learning environment for all children so that they become lifelong learners.
Thanks to those that made the auction possible:
Sarah Foss, Hannah Whiteman, Jerrian Franzen, Amy Stordahl, Janelle Leintz, and Stacey McNally