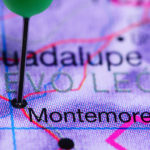 Authorities confirm that three women have been missing for two weeks after traveling from Texas to Mexico for a shopping trip.  According to missing person posters posted by the Local Commission for the Search of Persons in the Mexican state of Nuevo León, the three women — Dora Alicia Cervantes Saenz, 53, Marina Perez Rios, 48, and Maritza Trinidad Perez Rios, 47 — have been missing since Feb. 25. The Associated Press reported that Saenz is a friend of the Rioses, who are sisters.
Peñitas Police Chief Roel Bermea said that two of the women are from Peñitas, a Texas town on the U.S.-Mexico border. Peñitas police started looking into the three women's disappearance after the husband of one of the missing women contacted the department. Bermea said tha the three women left on Feb. 24 to go to a flea market in Montemorelos, a city in Nuevo León. The chief said that after several days with no contact, his investigator contacted the FBI "to see what they could do."  Said Bermea: "We did contact the FBI to let them know the ladies were considered missing .. but not much we can do ourselves" in a missing persons case in another country. The FBI confirmed in a statement they are aware of the matter.
According to the Attorney General's Office of Nuevo León, U.S. authorities have not intervened in the search because the women are not American citizens; they are Mexican nationals living in the U.S.  The Attorney General's Office of Nuevo León said in a statement that drones, all-terrain vehicles and canines have been deployed in the search, with search operations being carried out daily. Investigators are hoping to coordinate the search with authorities in the neighboring state of Tamaulipas as the women's families believe "that the event occurred there."  Authorities said that the women were traveling in a green mid-1990s Chevy Silverado. Anyone with information is urged to contact the FBI or the Peñitas Police Department at 956-581-3345.
Editorial credit: Dmitrijs Kaminskis / Shutterstock.com