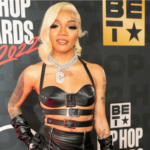 Police confirm that one person was killed and at least nine others were injured after a stampede was sparked by reports of gunfire at a GloRilla concert in Rochester, New York on Sunday night. GloRilla — real name Gloria Hallelujah Woods — said in a tweet early Monday morning that she was "just now hearing about what happened …praying everybody is ok."
The Rochester Police Department said in a news release that as fans were leaving the GloRilla concert at the Main Street Armory just after 11 p.m., they thought they heard gunfire inside the venue – which caused the crowd to surge and rush toward the exit.  Police said: "We do not have any evidence of gunshots being fired or anyone being shot or stabbed," and they were unclear as to why fans thought they heard gunfire. Police are continuing to investigate what caused the incident, as well as who may have been responsible.
A 33-year-old woman did not survive her injuries, and two others remain in critical condition. Police said that "as the night went on, an additional seven people arrived at local hospitals with non-life-threatening injuries from the event. Preliminary reports from people at the scene indicate that these injuries were caused from being trampled."
The next scheduled show at the Main Street Armory in Rochester, a Saturday performance by rapper A Boogie Wit Da Hoodie, has since been canceled.
Editorial credit: Franklin Sheard Jr / Shutterstock.com