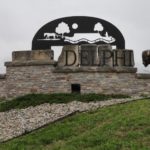 An arrest has been made in the 2017 killings of two Indiana teenage girls found dead after going for a hike on a local trail in Delphi.  Superintendent of the Indiana State Police Doug Carter confirmed during a press conference on Monday that 50-year-old Richard Allen has been charged with two counts of murder in connection with the 2017 deaths of 14-year-old Liberty "Libby" German and her best friend, 13-year-old Abigail "Abby" Williams. Carroll County Prosecutor Nicholas McLeland said during the press conference that Allen, who is a local from Delphi, entered a plea of not guilty,
Carter at the news conference Monday morning: "I am proud to report to you … that an arrest has been made. Thanks to literally hundreds of media outlets that have been steadfast in reporting and keeping the memories of Abby and Libby front and center." Carter noted that additional details about the arrest and investigation will not be released yet: "While I know you are all expecting final details today concerning this arrest, today is not that day. This investigation is far from complete, and we will not jeopardize its integrity by releasing or discussing documents or information before the appropriate time … Today is not a day to celebrate," but called the arrest a "major step." He also said that if anyone else was involved with the deaths of the girls, that person will also be held accountable.
On Feb. 13, 2017, Libby and Abby were reported missing by family after they were dropped off to go hiking near the "Monon High Bridge," an abandoned railroad that is popular with locals (and the girls were familiar with). The girls were supposed to be picked up by family later that afternoon, but they never showed up to the pickup location. Their bodies were discovered the following day in a wooded area, roughly a mile from the spot where they were last seen, and both deaths were ruled as homicides.
Just days after their death, authorities released photos taken from Libby's cell phone that showed a man on the trail. They also released a brief audio clip of his voice (taken from Libby's phone) as well as a police sketch of the unidentified man, who was later named as the main suspect in the girls' murders. Police investigated their deaths as a double homicide; their cause of death has never been revealed.
Editorial credit: Lost Shoe Studios / Shutterstock.com