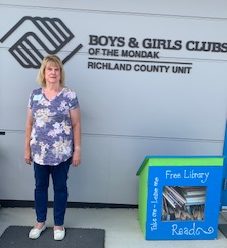 Adaptability grant helps eastern Montana youth club stay safe, sanitized
Grant funds ease financial burden of COVID-related supplies for nonprofit
SIDNEY, Mont. – A Montana Business Adaptability Grant recently helped ease the financial burden providing a safe COVID-free facility for eastern Montana youth.
"We are cleaning constantly," said Elaine Stedman, CEO of the Boys & Girls Club of Richland County in Sidney, Mont. "The cleaners can be difficult to find and expensive … The other day I found Clorox wipes that were $48.99 a container; I couldn't believe it."
The Boys & Girls Club of Richland County serves children in grades Kindergarten through fifth grade, providing day-long summer and after school programs focusing on STEM, educational, emotional and social activities. In the past, the nonprofit organization served 150 to 200 youth a year. This year, that number has decreased significantly to meet the requirements of protocols designed to prevent COVID-19 exposure.
"We had a case earlier this summer where a staff member had tested positive," said Stedman. "We had to close down for a couple of weeks, but our protocols worked – no one else got it."
When the club opened for summer, providing outdoor and indoor activities, the nonprofit had to purchase protective personal equipment for each member, such as masks and gloves, individual hand sanitizers, water bottles and school supplies.
"There is no sharing anything anymore," said Stedman. "Each member has his or her own labeled pencil box with crayons, pencils, scissors, anything they need in it and it travels with them all day. There is no touching each other's pencil boxes or each other, which has been hard because I am a hugger."
Instead of mixing children and crayons throughout the large facility, Stedman said the children are kept in cohorts based on grade level and school classes. The children stay within their cohorts of up to 16 youth and assigned staff members for all activities during the day. In the summer months, the youth wore matching t-shirts, which enabled staff to quickly identify cohorts.
"We worked closely with the local school to coordinate our protocols and resources," explained Stedman. "Things are different, but the kids have been pretty adaptable. The school requires them to wear masks during the day, and so do we."
Stedman says the supplies, equipment and facilities must be sanitized at least daily.
"We have two Lego boxes now," she said. "We have a clean box and a dirty box for Legos that have been touched. The kids are good about policing themselves and making sure the Legos get put in the right box after handling them. Then at night, we wash the dirty ones either in the dish washer or soak them in a bleach-water solution."
The costs of providing the extra supplies, personal protective gear and cleaners added up quickly. Stedman said she learned from the Montana Nonprofit Association of the Montana Business Adaptability Grant, which reimburses costs associated with COVID-19. She applied and was successful in getting a reimbursement for the club's cleaning and protocol supplies.
"One of the things it reimbursed us for was the aloe gel we purchased to mix with the hand sanitizer we bought from a local brewery," said Stedman. "The hand sanitizer was very harsh and smelled like alcohol, so we added aloe gel and essential oils to make it better suited for the kids."
The Montana Business Adaptability Grant reimburses expenses associated with protecting staff, customers and operations and customers during the COVID-19 pandemic. Montana-based businesses of all sizes and types that are registered with the Montana Secretary of State are eligible to apply. Eligible expenses include communications equipment to remote workers, tools and materials to enhance social distancing, sanitation and travel costs for quarantining workers, cleaning supplies and other expenses. Itemized receipts and proof of payment are required for reimbursement.
The cap for the Montana Business Adaptability Grants has been increased from $5,000 to $10,000. Businesses that have already applied may re-apply for a second grant; total reimbursements for both grants cannot exceed $10,000.
The Montana Business Adaptability Grant was made possible through the federal Coronavirus Aid, Relief and Economic Security (CARES) Act. The CARES Act is federal legislation to stabilize the economy through the Coronavirus Pandemic. It received bipartisan support and was signed President Donald Trump.
For more information or to apply, visit covidrelief.mt.gov.