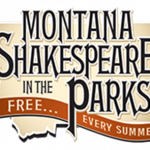 The MonDak Heritage Center partners with Montana Shakespeare in the Parks for its 2019 season to bring a performance of Shakespeare's The Merry Wives of Windsor to Sidney on Friday, June 28 at 6:30 p.m. at Veterans Memorial Park, off S Central Avenue. In the case of inclement weather, join us at Sidney Middle School.
Duels, deceit, and attempted seduction alight in this comedy featuring the beloved Sir John Falstaff. Watch as he tries to fool two clever women and has the tables turned on him instead. Merry Wives of Windsor will be directed by Guest Director Marti Lyons and will bring a night of laughs to our audiences.
FREE to the public. Sponsored by the MonDak Heritage Center, Best Western Prairie Inn & Suites, and Footers. Many individual donors also contributed to bring MSIP to Sidney. Look for their names in the performance's program.
Montana Shakespeare in the Parks is an outreach program of Montana State University's College of Arts and Architecture. It is funded by grants, corporate sponsorships, and individual donors. The 2019 season has shows across Montana, Idaho, Wyoming, Washington, and North Dakota. For the full schedule visit shakespeareintheparks.org or stop by MDHC.