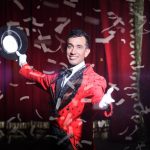 CIRCUS SAURUS
in SIDNEY, MT. 
June 28th.   
FREE ELEPHANT BATH: 3:00 PM FRI.
SHOWTIMES: 4:30 & 7:30
Located At: RICHLAND COUNTY FAIRGROUNDS
ADVANCED TICKETS:
SIDNEY AREA CHAMBER OF COMMERCE
ADULTS= $14.00 ($6 SAVINGS)
CHILDREN=$6.00 ($6 SAVINGS)
See The Dinosaurs and Unicorn Come Alive At The Circus
The 2019 edition of CIRCUS SAURUS will feature artists from around the world.  Immerse yourself into a mythological quest where fantasies and dreams become a reality.  You will be transported to a whimsical world where mystical creatures will come to life right before your eyes.  New heights of imagination will be reached as the elusive unicorn prances through the center ring to delight children of all ages.  Dinosaurs will once again shake the ground we walk on as we travel back millions of years and have your heart captivated by our Majestic Asian Elephants! 
Not only will our Unicorns, Dinosaurs and Asian elephants excite you, but you will also be amazed by daredevils on the Wheel of Destiny, Tumbling Acrobats, High Speed Jugglers, Hilarious Clowns and Aerial Artists who will soar to new heights at the apex of the Big Top!
This fantastical adventure can only be found under the CIRCUS BIG TOP!!!
For more information and tickets visit bigtopshow.com or call (580)743-7292!
WE'RE ALSO HAVING AN ELEPHANT SHOWER
IT'S TIME TO GET CLEAN!!!
The

SIDNEY

community is invited to a FREE EVENT

!
Carson & Barnes Circus invites the SIDNEY community to join them as they bathe their beautiful elephants in a SPA DAY!   The mighty pachyderms will enjoy a luxury BATH as guests take the opportunity to enjoy these animals up close and learn about their species.
The bath time is scheduled for 3:00 p.m. on FRI – JUNE 28TH before the performances scheduled at 4:30 & 7:30 pm.  Join us for this fun filled experience!
Pachyderm Facts
Just like humans the Carson & Barnes Circus elephants take daily showers, although unlike most of us they really get the royal treatment. They get to lie down and get scrubbed cleaned by their loved handlers. It takes approximately 500 gallons of water and a gallon of special soap just to give one elephant their daily bath. The majestic pachyderms are bathed with a soap that helps their naturally tough skin. Pressured water is used to help them achieve a spa like cleansing! This is a once in a lifetime opportunity to see an elephant's bath!!!