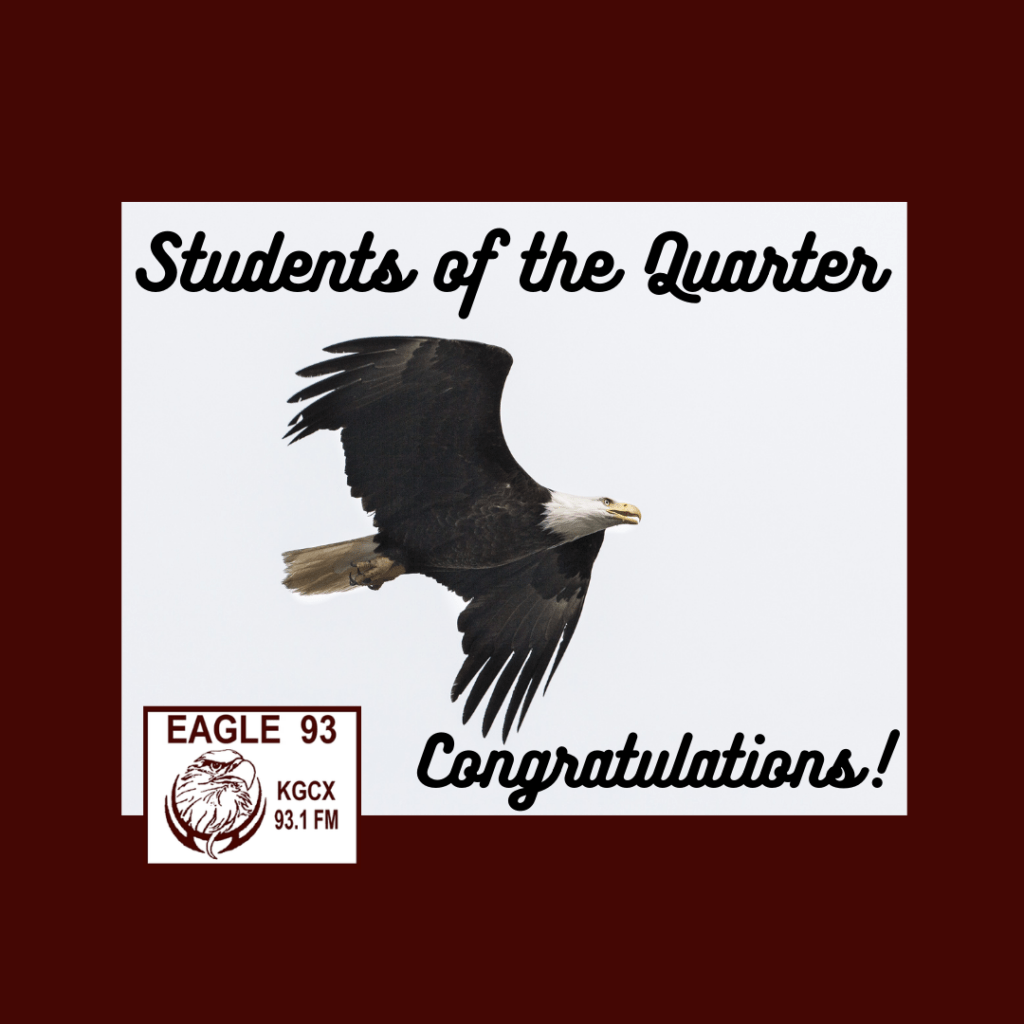 2020-2021 School Year First Quarter:
West Side Elementary: Armani Evanson, Jamisen Moore, Rosalie Stevenson, Aubrey Durham, Avalynn Peterson, Quin Stambaugh, Graicen Roberts, Maysen Peterson, Samantha Basnaw, Daycen Lawrance, Stetsonn Bybee, Azarae Grecco, Letty Meissel, Cadence Balcom, Ryder Lowery, Dax Moore, Lucy Wagner, and Natalie Clayton.
Central Elementary: Avery Sukut, Mariah Entz, Camryn Franck, Alaina Olmstead, Jade Anderson, Cailyn Carter, Kaia Keysor, Jacob Barnett, Braydon Herbel, Aiden Anderson, Jared Anderson, and Jace Keller.
Congratulations to all of the Students of the Quarter, and thanks to everyone who visited our station!
Video 1: Cailyn, Cameryn, Alaina, Azarae, Braydon, and Avalynn.
Video 2: Maysen, Daysen, Sadie, Rosalie, Letty, and Cadence.
Video 3: Armani, Quin, Mariah, Lucy, Dax, Jamisen, and Kaia.
Video 4: Natalie, Samantha, Aubrey, Jared, Abriana, and Jade.
Second Quarter:
West Side: LaRae Hurd, Isla Rasmussen, Destiny Lund, Leyla Tabor, Auburn Bower, Kane Petersen, Ally Dignan, Marrett Haralson, Braxlie Young, Lauryn Romo, Leon Nguewoun, Maizy Stenson, Abram Breitling, Dustin Harmon Jr., Owen Norgaard, Annie Allen-Alcazar, Maddison Squires, Bradley Eustice, and Adriean Gray.
Central Elementary: April Winksy, Kash Josephsen, Addison Durham, Sara King, Yuriah Camacho, Tripp Heggum, Danny Carlsen, Elle Buske, Rose Baltruche, Alena Villarreal, Kendal Vitt, and Katelyn Reuter.
Video 1: Braxlie, Leon, Elle, Kane, Bradley, Kendal, Rose, Lauryn, and LaRae.
Video 2: Maizy, Katelyn, Tripp, Annie, Abram, Rose, Sara, Dustin, and Destiny.
Video 3: Addison, Kash, Ally, Adriean, Auburn, Alyna, Isla, and Leyla.